How to apply/ Diponegoro University (UNDIP) Scholarship, -Indonesia 2022-2023
General Overview:
Universitas Diponegoro (UNDIP) is one of the best, foremost and oldest universities in Indonesia. UNDIP has been home for more than 54,000 students and is ranked in the Top Ten National University. The University also gained its reputation worldwide i.e Top 400 THE World University Ranking for SDG's and Top 1000 QS World University Ranking. For the students' achievement, UNDIP is acknowledged as the Best Three for National Rank by QS World Graduate Employability and Universities in Asia by UniRank/4icu.org, respectively. UNDIP aims to become World Class University in which provides excellent education has become one of the main focuses. Undip Scholarships is offered to the international students who want to pursue the Master Program which is taught in English. Upon the study completion, Undip Scholarships Awardees are expected to play an essential role in expanding the international network as well as establishing collaborations back home with UNDIP.
We are offering 16 Master Programs. These study programs are accredited A (Excellent) by the Indonesian Ministry of Education and Culture. We value our students, both home-students and international students, by providing excellent education as well as the best services to foster the learning process. In addition, located in Semarang City has become one of the appealing points for UNDIP as the city itself is well known for its cultural and industrial diversity. This uniqueness allows our students to experience local heritage in their surroundings and also access to our industrial partners for those who want to conduct the internships.
About Universitas Diponegoro(UNDIP)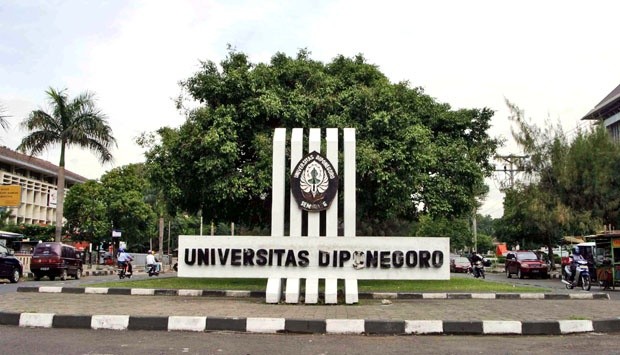 In the early 1950s, people in Central Java, especially in Semarang, needed a university for providing higher learning and teaching facilities. It has been purpose to support of government in handling and in conducting all sectors of development, especially in the field of education. At that time, it was only Gajah Mada University as a public university, that providing higher education for people in Yogyakarta and also Central Java.
As amount of senior high schools graduated has been continuously increasing, while existence of universities limited, some graduates could have not been accommodated at higher education facilities in north of Central Java. Considering this situation, MR. Imam Bardjo and his colleagues formed an educational foundation, namely Yayasan Universitas Semarang (Foundation of Semarang University), noted by notary R.M. Soeprapto on Notarial Deed No 59, December 4, 1956. The foundation was a first step to establish a university in Semarang, namely Semarang University, that officially opened on January 9, 1957, and MR. Imam Bardjo was the first President of the university.
When Semarang University celebrated its third Dies Natalis on January 9, 1960, President of Indonesia, Ir. Soekarno renamed the Semarang University as Diponegoro University. Changing the name of Semarang University was intended as a tribute to the university's performance in development of higher education in Central Java. The President's decision was confirmed by the Government Regulation No. 7 1961 and Decree Minister of Education, Teaching and Culture No. 101247 / UU on December 3, 1960.
The decision was retroactive to October 15, 1957, and this date is commemorated as the day of Diponegoro University's Dies Natalis as well as for remembering "Five Days Battle in Semarang", which is part of Indonesian National Revolution war that took place in Semarang City. Diponegoro University choses the date as its Dies Natalis for continuing national heroes' ideals of compiling Indonesia's independence by developing the nation's intellectual life. Diponegoro University is a contribution the next generation to carry on the mandate from national independence heroes.
The year of 1957 was defined as the year of Diponegoro University's establishment, by considering history of Semarang University as a private university founded on 1957 was an embryo of Diponegoro University. The date of October 15, 1957 as Diponegoro University's Dies Natalis was stated in Rector's report on the 13th Dies Natalis of Diponegoro University.
The long reputation of Diponegoro University has delivered it to be among the top national higher education entities, which bring competitive advantage for the alumni and deliver intellectual works of research and publications.
Currently under Government Regulations No. 81 /2014 and Goverment Regulations of Indonesia Republic No. 52/2015, Diponegoro University earns the status of PTNBH (Perguruan Tinggi Negeri Badan Hukum-State Owned Higher Education with a Legal Entity Status).
UNDIP Master Scholarships
Type: Mater
Organisation: Diponegoro University- UNDIP
Country to study: Indonesia
School to study: Diponegoro University- UNDIP
Course to study: Not specified
State of OriginGender: Men and Women
Application Deadline: for Graduate students February 28, 2022
Undergraduate Degree Program : February 8,2022 – May 8, 2022
Aim and Benefits of UNDIP Master Scholarships
Undip Scholarships Awardee will receive:
Round Trip International Airfare (Economy Class only) and Round Trip Domestic transport from Jakarta (CGK) to Semarang Airport (SRG) for all students. All tickets are issued by Undip
Settlement Allowance of IDR 2.500.000,00 paid only once upon arrival in Undip
Living Allowance IDR 2.500.000,00 per Month, please be advised that this amount only sufficient to support one person living properly in Semarang. Hence, we do not recommend our awardees to bring their family, if awardees insist to bring their family, all expenses belong to the responsibility of the awardees. The allowance is only for those who reside in Semarang
Books Allowance will be paid per semester
Internet Allowance only for those who reside outside of Semarang
Health Insurance provided by Undip (if the cost of medical services exceeded coverage amount, the difference should be borne by the student)
Waiver of Tuition Fee
The Scholarship will be terminated when the student has finished their study, failed to accomplish minimum grade, or exceeded the study period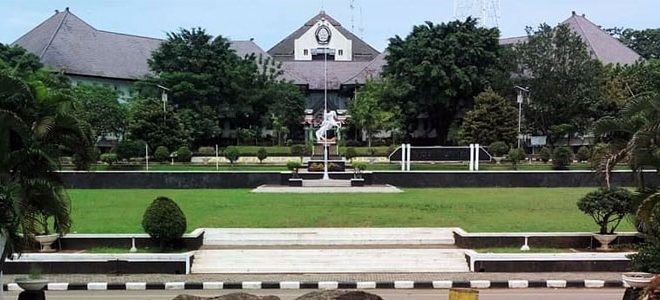 Requirements for UNDIP Master Scholarships Qualification
Not Indonesian Passport Holder
Valid Passport 2 years after the registration date
Curriculum Vitae
Copy of Bachelor Diploma and Academic Transcript
Letter of Declaration to comply with Indonesian Rules
Photograph 4×6 coloured
For specific requirement please refer to each study Programme requirements in Appendix A of this guidance book
Letter of Recommendation issued by nearest Indonesian Embassy/Consulate General in home country
TOEFL ITP 525 or IELTS 6.0
Brief Introduction to Undip Scholarship Programme
Undip Scholarships is a financial support offered by UNDIP for International Students to pursue their Master Degree in which offer many programmes in English. The scholarship consists of tuition fee waiver, living allowance (for those who resides in Semarang), health insurance and internet allowance during the COVID-19 pandemic.
Scholarship Coverage and Duration
Undip Scholarships Awardee will receive:
Round Trip International Airfare (Economy Class only) and Round Trip Domestic transport from Jakarta (CGK) to Semarang Airport (SRG) for all students. All tickets are issued by Undip
Settlement Allowance of IDR 2.500.000,00 paid only once upon arrival in Undip
Living Allowance IDR 2.500.000,00 per Month, please be advised that this amount only sufficient to support one person living properly in Semarang. Hence, we do not recommend our awardees to bring their family, if awardees insist to bring their family, all expenses belong to the responsibility of the awardees. The allowance is only for those who reside in Semarang
Books Allowance will be paid per semester
Internet Allowance only for those who reside outside of Semarang
Health Insurance provided by Undip (if the cost of medical services exceeded coverage amount, the difference should be borne by the student)
Waiver of Tuition Fee
The Scholarship will be terminated when the student has finished their study, failed to accomplish minimum grade, or exceeded the study period
Responsibilities of the Awardees
Undip Scholarships Awardees Must:
Complying with the Indonesian laws and regulations, university's regulations, and other associated regulations;
Actively engaging in regular supervisory sessions and other academic-related activities all through the programme to support the study completion;
Being punctual and focus to pass all courses offered in their programme to enhance the academic outcome. Periodic assessments will be conducted to evaluate awardess' eligibility to continue the programme;
Willing to participate in the academic and non-academic events held by Universitas Diponegoro
Applying:
1- Download Recommendation issued by nearest Indonesian Embassy/Consulate General in home country
, then Upload with your documents
2- Click on FORM LOGIN and Create Account: https://admission.undip.or.id/
3- Please fill the data bellow (personal, education, employment and parental data) for complete registration and save : https://admission.undip.or.id/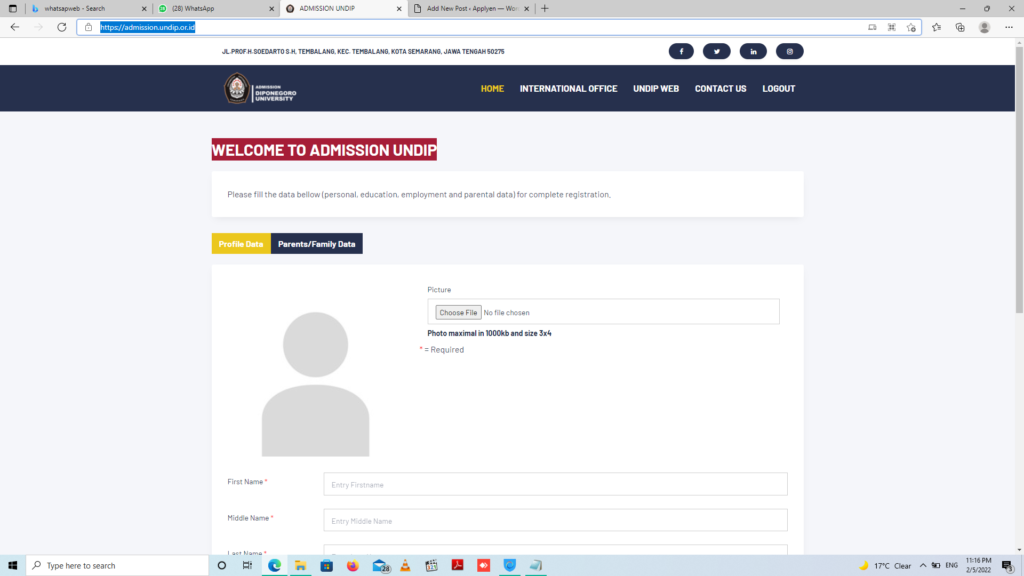 4- PROGRAM PREFERENCES: https://admission.undip.or.id/pendaftaran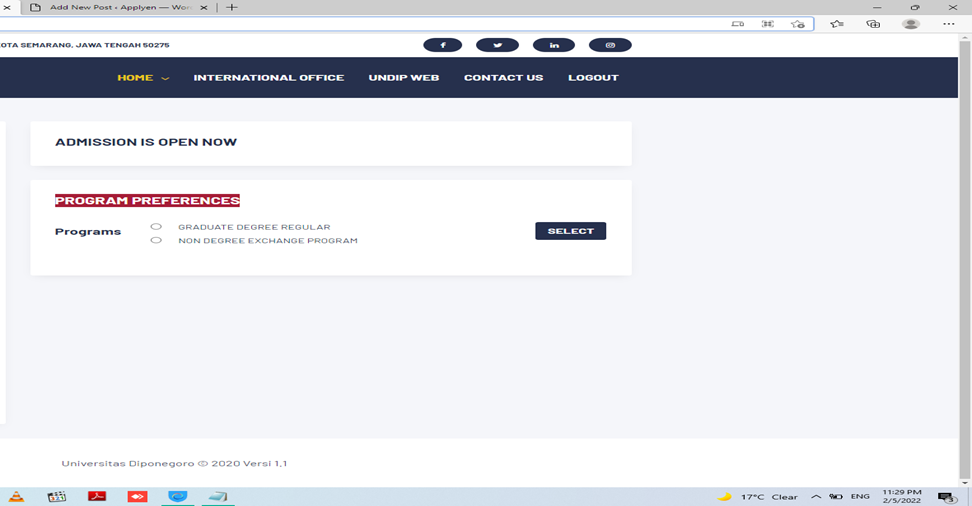 5- PREVIOUS EDUCATIONhttps://admission.undip.or.id/pendaftaran?jalur=81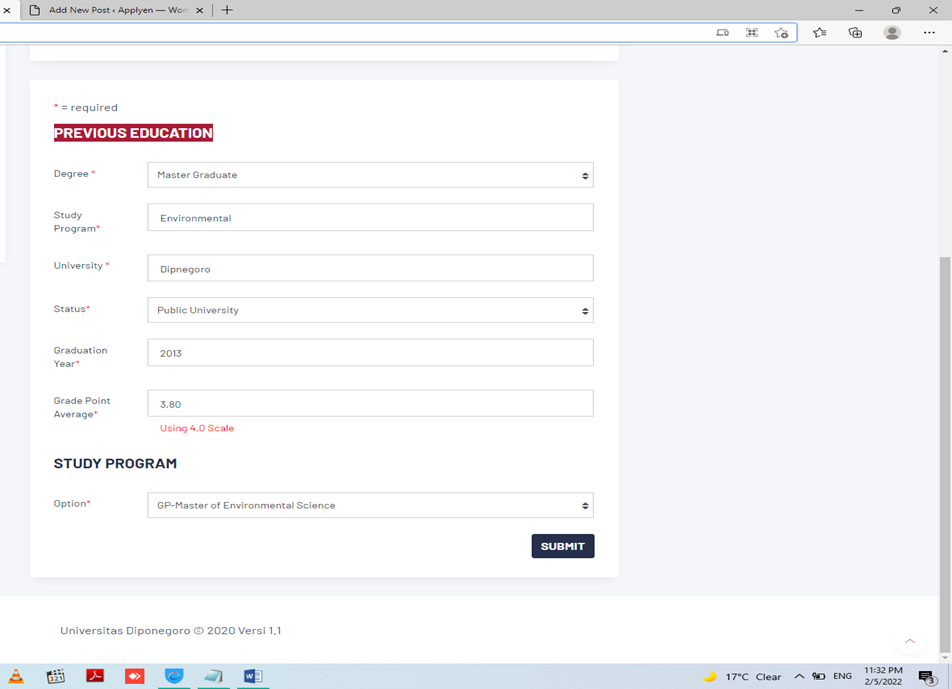 6- get Admission for Diponegoro University: https://admission.undip.or.id/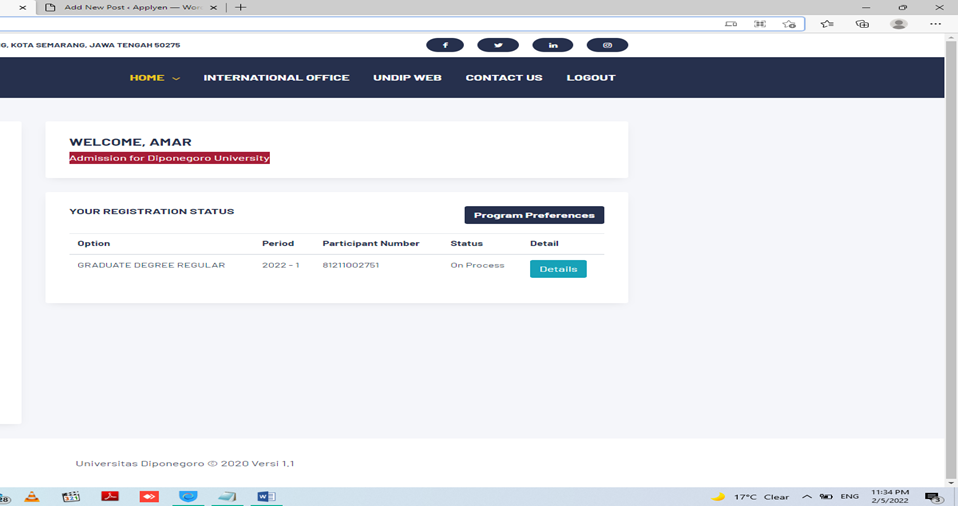 7- ADMISSION DETAIL: https://admission.undip.or.id/detailpendaftaran?id=2751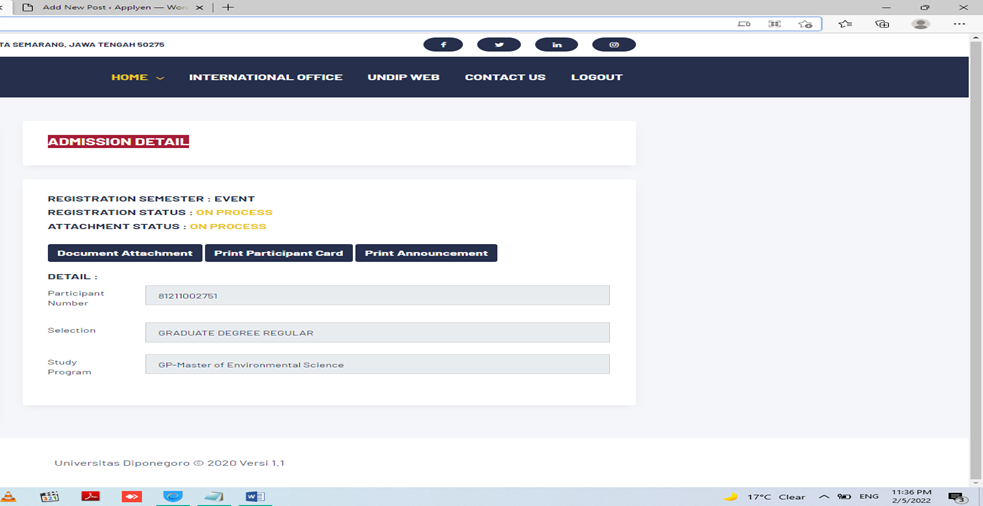 8- ATTACHMENT: https://admission.undip.or.id/editberkas?id=2751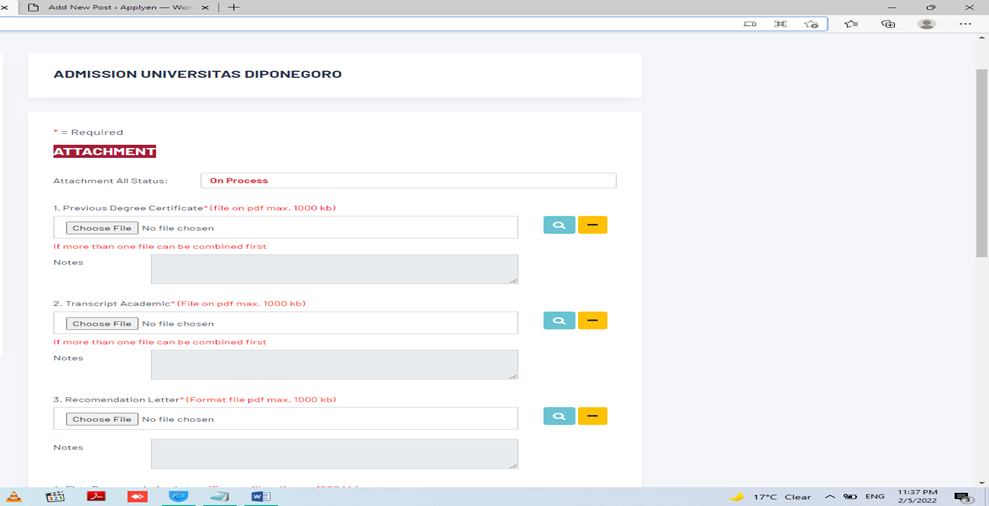 9- to have more information please visit : https://www.scholarshiptab.com/scholarships/undip-2021-2022-master-scholarships-for-international-students-indonesia admission.undip.ac.id