How to Apply Fully Funded DAAD Scholarships In Germany
Overview:
DAAD in Germany is now accepting DAAD Scholarship  online applications from international students to give them an opportunity to study for free in Germany. DAAD Scholarships is a well-known scholarship for its numerous benefits for international students. Candidates who are looking forward to completing their post- graduate and graduate degrees with 100% funding should not miss this great opportunity.
Every year, the German Academic Exchange Service (DAAD) supports well over 100,000 German and international students and researchers around the globe — making it the world's largest funding organization of its kind.
DAAD scholarships are aimed primarily at graduates, doctoral students, and postdoctoral and are awarded for study and research visits to universities and non-university research institutions in Germany. In some programs, internships are also funded.
With its development-oriented postgraduate study programs, the DAAD promotes the training of specialists from development and newly industrialized countries. Well-trained local experts, who are networked with international partners, play an important part in the sustainable development of their countries.
Skilled professionals are the best guarantee for a better future with less poverty, more education, and health for all. The scholarships offer foreign graduates from development and newly industrialized countries from all disciplines and with at least two years of professional experience the chance to take a postgraduate or Master's degree at a state or state-recognized German university, and in exceptional cases to take a doctoral degree and to obtain a university qualification (Master's/PhD) in Germany.
Details:
Scholarship By: Federal Ministry for Economic Cooperation and Development
Scholarship coverage: Fully Funded
Degree level: Master's, PhD
Eligible nationality: International
Award country: Germany
Last Date: Different for every University.
Financial Benefits:
DAAD Scholarships for Masters & PhD is a Fully Funded Scholarship in Germany for International Students. It will cover all the Expenses to Study Free in Germany.
Depending on an academic level, monthly payments of 861 euros for graduates or 1,200 euros for doctoral candidates
Payments towards health, accident and personal liability insurance cover
Travel Allowance, unless these expenses are covered by the home country or another source of funding
Under certain circumstances, scholarship holders may receive the following additional benefits:
Monthly rent subsidy
Monthly allowance for accompanying members of the family.
Available Fields:
Economic Sciences/Business Administration/Political Economics
Development Cooperation
Engineering and Related Sciences
Mathematics
Regional and Urban Planning
Agricultural and Forest Sciences
Natural and Environmental Sciences
Medicine/Public Health
Social Sciences, Education and Law
Media Studies
Merit Criteria
We encourage applications from all developing countries.
Bachelor's degree (usually a four-year course) in a related field is required.
The academic degree of a candidate should not be older than six years.
Professional experience of at least two years is required.
How to apply:
1- press on application Procedure: https://www2.daad.de/deutschland/stipendium/datenbank/en/21148-scholarship-database/?origin=176&status=3&subjectGrps=&daad=&q=&page=1&detail=50076777#voraussetzungen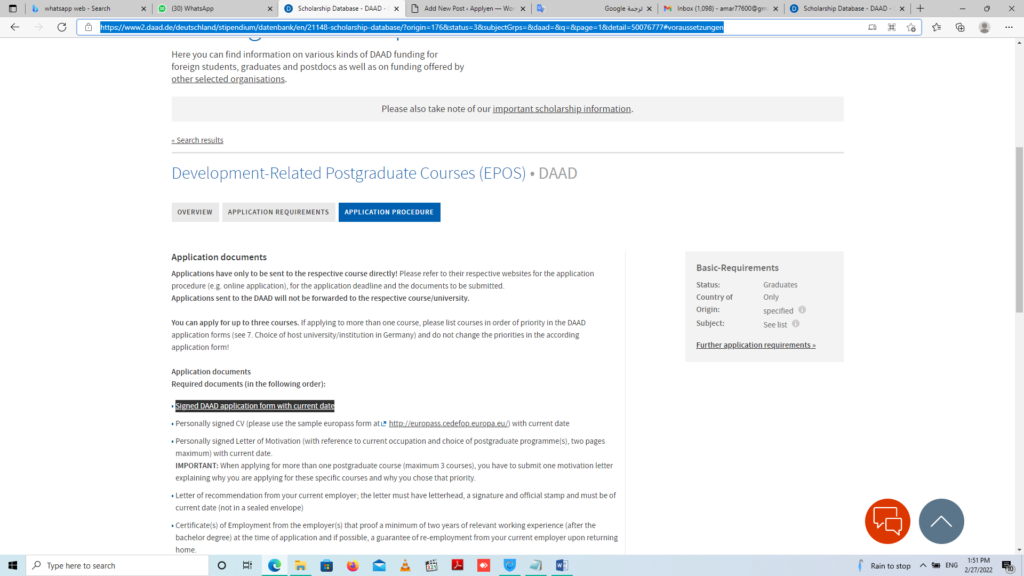 2- Download the application form, from the below link
3- fill and Sign, DAAD application form:
4- Personally signed CV, use europass format https://europa.eu/europass/en
5- Motivation Letter
6- recommendation Letter
7- Certificate(s) of Employment from the employer
8- Proof of Language Skills English – IELTS or TOEFL " institutional TOEFL is not accepted"
9- Copies of Academic Degrees (certified translation if necessary)
10- Copies of Academic Transcripts, incl. grading-scale (certified translation if necessary)
11- For Chinese " submit an APS Certificate with their application documents"
Notes:
The complete applications have to be submitted in English or German to be considered.
Incomplete applications cannot be considered.
If applying to more than one course, please list courses in order of priority in the DAAD application forms and do not change these priorities in the respective application.
When applying for more than one postgraduate course (maximum 3 courses), you have to submit one motivation letter explaining why you are applying for these specific courses and why you chose that priority. If this information is ignored, the application cannot be considered or an already awarded scholarship might be withdrawn
Some courses may require additional documents. For detailed information, please see the relevant course description in the Brochure and on the respective websites.
12- Make sure that you have a copy of each document of your application ready, as those documents (as PDF files) have to be uploaded to the DAAD Portal in case you are suggested for a DAAD scholarship! https://portal.daad.de/irj/portal
13- Application location
Apply directly to the chosen study programme: https://www.daad.de/en/study-and-research-in-germany/scholarships/important-information-for-scholarship-applicants/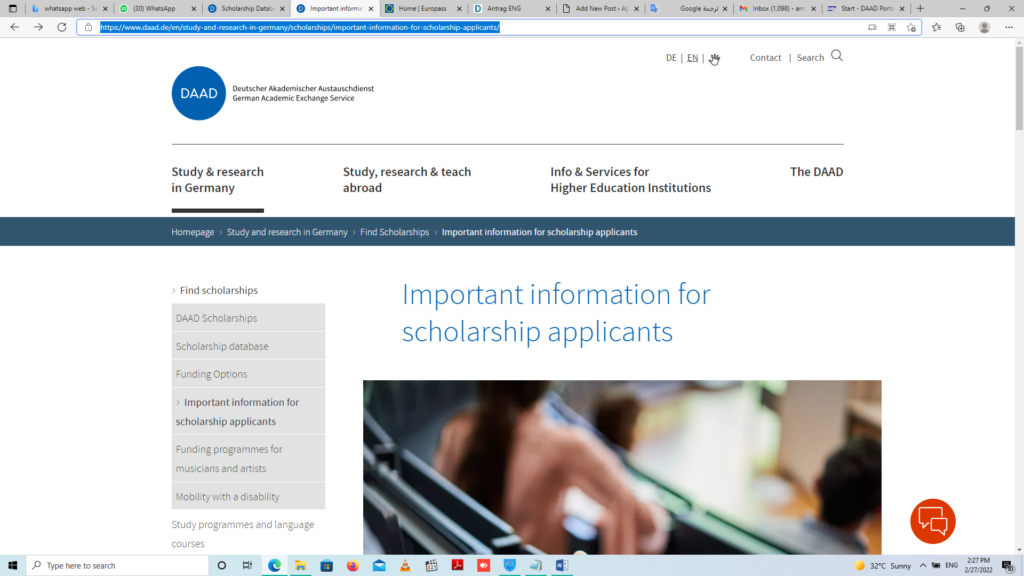 14- General Guideline for the More Info :