How to apply Antalya Bilim University Scholarships to Study In Turkey
Overview:
Antalya Bilim International University, Turkey 2022/2023 Scholarships for International Students are accepted. The Antalya Bilim University International Scholarships are available for a variety of undergraduate and graduate programs. There is a variety of Antalya Bilim University Scholarship Programs for students from all over the world. This is a great opportunity for students from all over the world to study in Turkey.
Description
University or Organization: Antalya Bilim University
Department: NA
Course Level: Undergraduate and Graduate
Award: Tuition fee
Number of Awards: NA
Nationality: International
Deadline: Currently, the application for an international scholarship at Antalya Bilim University is open and the deadline is not mentioned, so you can apply now.
About the University:
Antalya Bilim University (ABU) in Turkey is one of the most prestigious universities in the world. ABU is home to youth from all over the world. ABU is a diverse multicultural university. Thousands of domestic and international students study at ABU because of the slogan shaping your future and your new life.
Antalya Bilim University offers almost all undergraduate, graduate, and doctoral programs, including in the fields of science, engineering, law, humanities, arts, tourism, business administration, and medicine. Study
At ABU, courses are taught by highly qualified professors from the world's best universities. Students with clear international insight are ABU graduates as citizens of the world. The ABU campus offers a variety of social and educational opportunities for all students throughout their studies.
About Antalya Bilim University Scholarships:
Every year, Antalya Bilim University, Turkey offers 4 different scholarships for international students. There are various international scholarship opportunities for undergraduate, graduate, and doctoral students for undergraduate and graduate students. The Bilkent University course is designed to help outstanding international students who dream of higher education in Turkey. Turkey Scholarships offered by Antalya Bilim University:
Achievement Scholarship
Sports Scholarship
Disability Scholarship
Extra Scholarship Opportunity
Antalya Bilim University has 4 type of scholarships for International Students.
1.Achievement Scholarship
Achievement scholarships are offered to students who are placed in our university without a scholarship but have a GPA of 3.30 and above (out of 4.00). A limited quota is offered in order of merit.
2.Sports Scholarship
Sports scholarships are offered for students who attend sports activities on behalf of our university and/or
represent our university, upon the review of the Scholarship and Financial Aid Commission. The duration and amount of the scholarship to be offered will be determined by the commission, approved by the Rector and put into effect. A scholarship which starts in the Fall or Spring Semester will end at the end of the relevant academic year. The scholarship application can be renewed at the beginning of the following academic year.
3.Disability Scholarship
In accordance with the Regulations on Disability Criteria and Classification, and Medical Board Reports Given to Disabled People (Law no: 5378 dated 01/07/2005), disabled students are offered a discount on their tuition fees in proportion to the degree of their disabilities after deducting their SSPC (OSYM) scholarships, provided that they can provide medical reports. Students whose disability degrees are between 60% and 80% will be provided with financial aid of 25% in addition to their SSPC scholarships, and students whose disability degrees are between 80% and 100% will be offered financial aid of 50% in addition to their SSPC scholarships. Extra aid to be offered to disabled students will be reviewed and determined by the Scholarship Commission. The duration of the scholarships is 5 (five) years including the preparatory class.
4. Extra Scholarship Opportunity
– The first 10 applicants to ABU will receive a 25% extra discount.
– International students with %70 or more success with their high school scores may be eligible for scholarship.
– Scores for National and International exams can be considered to obtain a greater scholarship.
– The first student registering from any new country currently not represented in our University will receive a 75% scholarship.
Merits:
Applicants must meet the following criteria to access this international scholarship from Antalya Bilim University.
Citizens of all countries except Turkish citizens.
Applicants with a high school degree are eligible to apply for Undergraduate programs.
Applicants having an Undergraduate degree are eligible to apply for Masters / MS / MPhil
Students want to apply for a doctorate. The program must include bachelor's and master's degrees from a world-renowned university.
There are different eligibility criteria for each student in the country, please refer to this section
How to apply:
1- For the Undergraduate students please fill the Application Form https://antalya.edu.tr/tr/fakulte-ve-enstituler/uluslararasi-ogrenci-ofisi/iso-basvuru-formu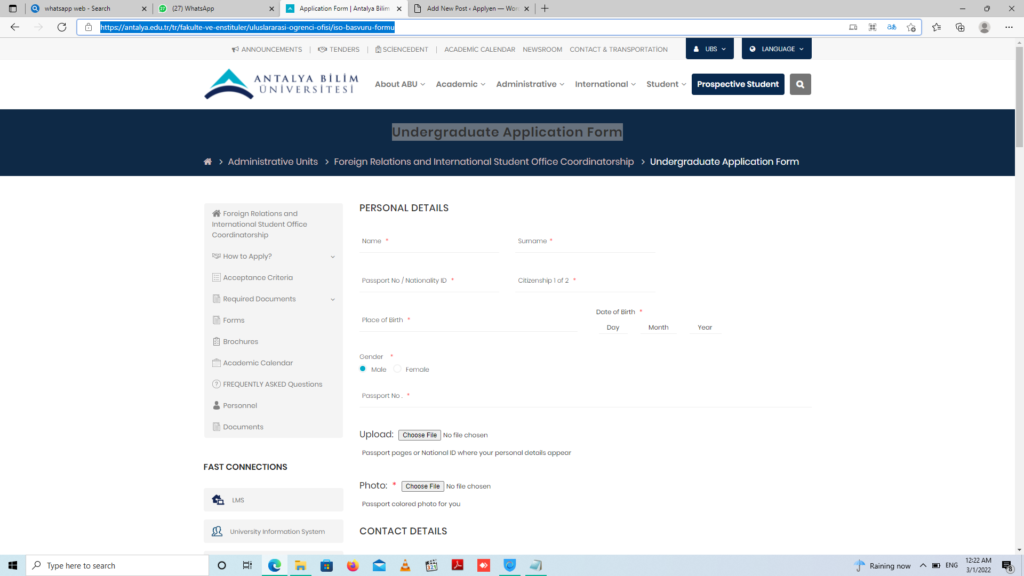 Notes: the registration of undergraduate Students will be online
2- For the Graduate students, please fill the following application:
3- Required Documents:
Original High School Diploma
Original High School Transcript (Last 3 Years)
Original Translation of High School Transcript and Diploma into English or Turkish
National/International Exam results
Copy of Student Visa
Copy of Passport Copy of Residence Permit Card both sides
6 photographs (white background – 4,5×6)
Copy of Health Insurance
Acceptance Letter
The applicants must have a GPA of 3.30 and above (out of 4.00) to be secure an admission in Antalya Bilim University.
TOEFL IBT – 79
PTE Academic – 62
FCE – B
CAE/CPE – C
4- After filling this form please send to [email protected]