How to Apply Funded Scholarship at Ibn Khaldun University To Study In Turkey 2022
Information about the Scholarship:
Ibn Khaldoun University offers a large number of full and partial scholarships. The free scholarships at Ibn Khaldun University include a monthly stipend, student housing, and a number of other benefits. The university also provides a number of partial scholarships, which exempt students from all or part tuition fees.
Ibn Khaldun University adopts English, Turkish, and Arabic as official languages ​​in its various study programmes. It also offers a preparatory year to study the language in the event that the language condition is not met. There are programs that are taught entirely in English or completely in Turkish, and there are programs that depend on more than one language of instruction.
Details:
Countries available for submission: United Arab Emirates, Bahrain, Djibouti, Algeria, Egypt, Iraq, Jordan, Comoros, Kuwait, Lebanon, Libya, Morocco, Mauritania, Oman, Palestine, Qatar, Saudi Arabia, Sudan, Somalia, Syria, Tunisia, Yemen, and all countries of the world.
Study level: Bachelor's and Master's degrees. And a Ph.D.
Funding: The scholarship is fully funded
Application deadline: February 27, 2022.
Result date: March 17, 2022.
University funding
Tuition fees are free.
Free accommodation.
Monthly salary ranging from 1000 to 3000 TL.
Also, partial scholarships only include exemption from tuition fees at different rates from 25% to 100%. Some students may also get free housing.
Specializations
Students can apply for a maximum of 3 majors.
First, the master's specializations:
Air Transport Administration.
Civilization studies.
Clinical Psychology.
Counseling Psychology.
Economy .
Financial economics.
International and Comparative Law.
Islamic studies .
Business Management.
Business Management .
Management of educational institutions.
Philosophy .
Political science and international relations.
Radio, Television and Film.
Religious studies.
Sociology .
Turkish Studies.
Second: PhD specializations:
Civilization studies.
Clinical Psychology .
Date .
Economy .
private law .
Islamic studies .
Administration .
Sociology .
Submission conditions:
Students who wish to apply for the scholarship program must meet the following requirements:
Students of all nationalities can apply for the Ibn Khaldun University scholarship.
There are no age restrictions on applying.
Fulfill the requirements for the specialization you intend to apply for.
Fulfilling the language requirements (English, Turkish or Arabic).
Writing a letter of intent in English.
Attach all the required documents during the application process.
Required documents:
Photograph.
a copy of the passport.
Curriculum Vitae.
Scoring record.
Graduation certificate or temporary certificate.
Language Proficiency Test Score (YDS, E-YDS, YÖKDİL, TOEFL, TÖMER etc. IELTS is not accepted.)
Letter of intent.
2 letters of recommendation.
Best way to Apply:
1- Create Account and select application types: http://apply.umran.ihu.edu.tr/en/Profile/SignUp?applyType=0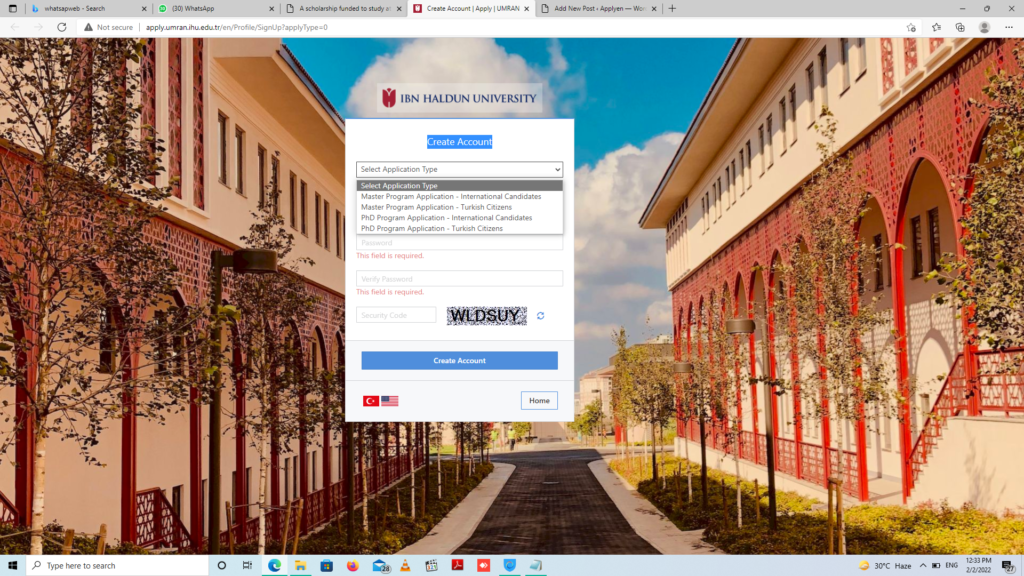 2- Get confirmation into your E-mail and please click to confirm E- mail: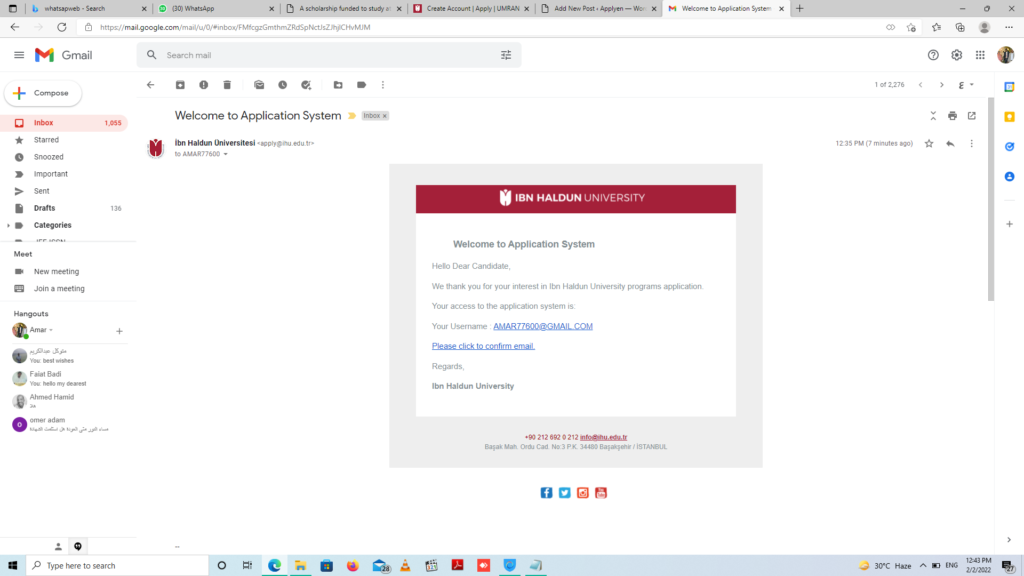 3- Succeeded! Your e-mail address has been successfully verified:
4- SIGN IN: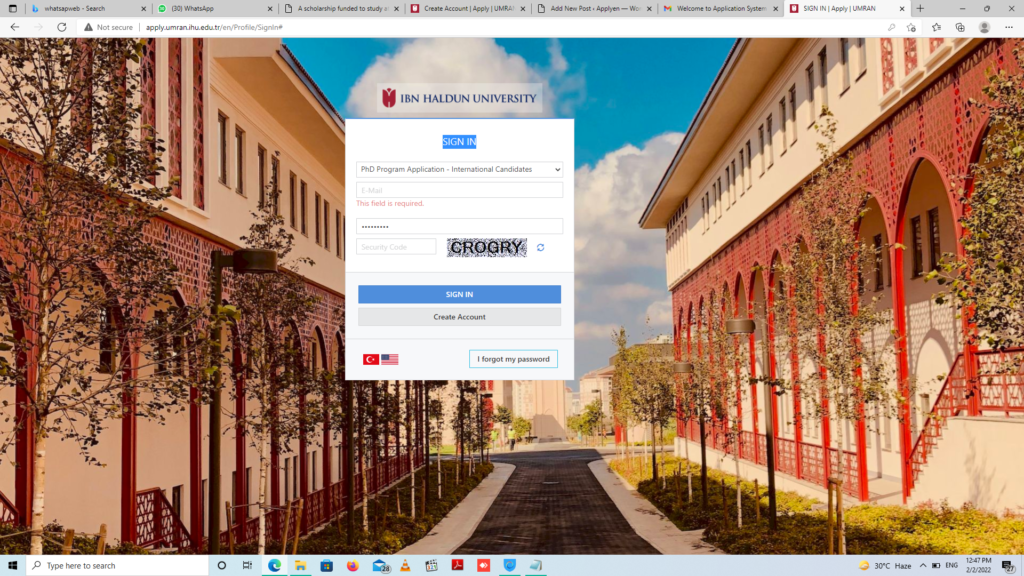 5- Click and continue: http://apply.umran.ihu.edu.tr/en/Profile/Index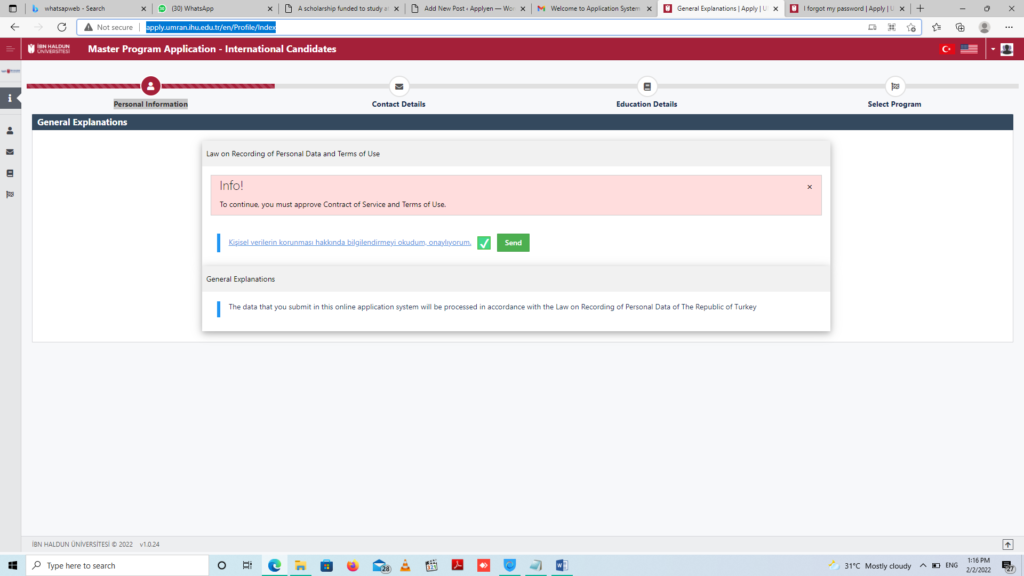 6- Personal Information: http://apply.umran.ihu.edu.tr/en
7- Contact Detailshttp://apply.umran.ihu.edu.tr/en/Home/ContactInformation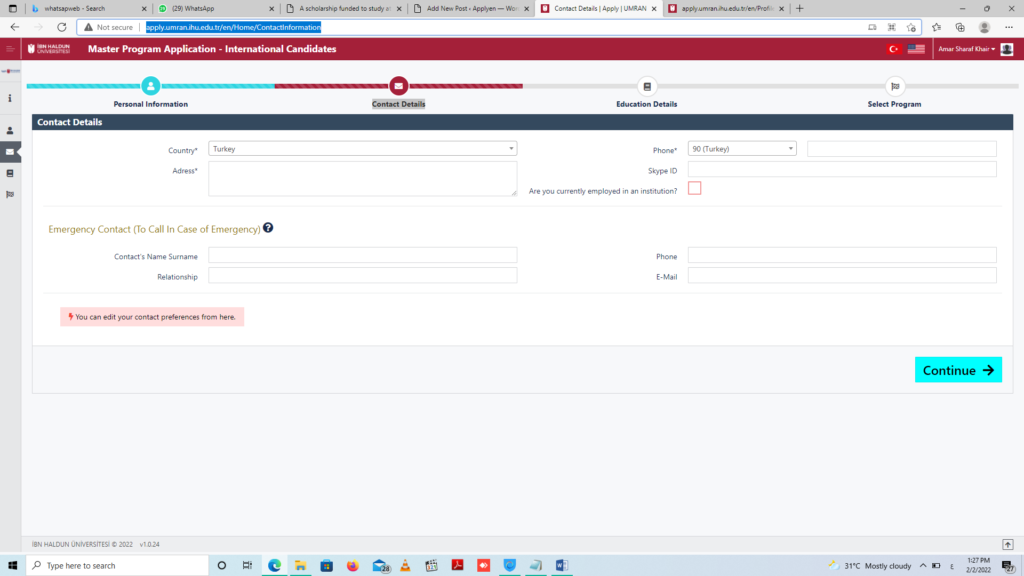 8- Education Details: http://apply.umran.ihu.edu.tr/en/Home/EducationInformation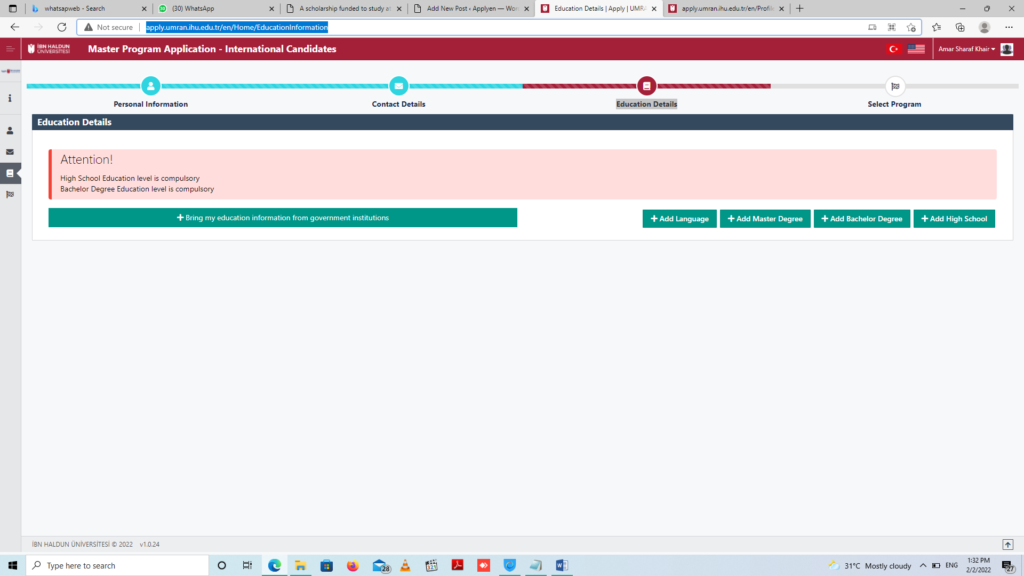 9- Lastly Select Program…….