How to Apply Fully Funded Ireland Government Scholarship For BSc, MSc and PhD Studies – 2022
Introduction:
The internationalization of Irish higher education is a key element in the delivery of a quality teaching, learning and research experience for students and staff and for building international engagement for the sector. The Government of Ireland – International Education Scholarship (GOI-IES) scheme was established under the provisions of the Government's International Education Strategy, 2010–2015 and expanded under the successor strategy "Irish Educated, Globally Connected (2016- 2020). The next iteration of the international education strategy is being examined. Attention is also drawn to the Department of Foreign Affairs and Trade's Global Ireland: Delivering in the Asia Pacific Region to 2025 strategy.
he Government of Ireland has come up with an amazing opportunity for students wanting to polish their educational life in Europe. The Government of Ireland Scholarship 2022 will be offered to students at various levels of education whether they want to enroll themselves in an undergraduate program, a master's program, or a Ph.D. program. Students are encouraged to pursue their educational path through the ladder of fully-funded scholarships at one of the best higher education institutions in the Irish territory. This will prove to be a highly desirable component of a highly qualified student profile. By providing these opportunities to local and international students, Ireland is committed to fulfilling its mission of becoming a center of quality education for all. Students who move towards Ireland will be building their networks with global markets as well.
Details about the scholarship
Host Country: Ireland
Funded by: Government of Ireland
Study Level: Bachelor's, Master's, Doctorate
Number of Scholarships: 60
Deadline: 

The deadline for applications for the Government of Ireland Scholarship 2022 is 25 March 2022 until 5pm Irish time.
The reasons of selecting Ireland Government Scholarship
The Government of Ireland International Scholarships for Education 2022 is designed to study abroad under the successor strategy of Education in Ireland which has the potential to beat other competitors of the same disciplines. The various Irish educational institutes have their own dynamics and features under which they operate by maintaining a horizon of excellence in the best educational systems in the world. Moreover, these Irish scholarships are based on gender equality that helps everyone achieve their dreams of studying in Europe. Applicants belonging to the underrepresented area are welcomed with open arms if their educational background matches the eligibility requirements for the Irish Scholarship. Furthermore, students with excellent communication skills and a passion for participating in extra-curricular activities are preferred.
Specializations available in the scholarship
The aim of the Irish Research Council Postgraduate Scholarships Program is to support or intend to pursue a full-time MSc or Ph.D. degree in any discipline.
Science
Technology
Engineering
Mathematics
Arts
Humanities
Social Science
Application conditions
A citizen who has resided for 3 consecutive years outside the EU, EU, Switzerland, or UK for the past 5 years can apply.
Final year undergraduate program students can apply.
Students of the master's program who have completed one year can apply.
Students who have completed one year of a two-year master's research program can apply.
Students who have completed one year of a research program and a 3 to 4-year doctoral program can apply.
Students who receive an offer letter from eligible Irish higher education institutions may apply.
Students who have an excellent record in all aspects (educational, personal, professional, and innovation) can apply.
Students with excellent communication skills can apply.
Students who have a passion to participate in extra-curricular activities can apply.
Students who have a strong rationale to continue their studies in Ireland can apply.
The required documents
Academic records.
A valid passport.
Offer letter.
reference letters.
Universities in Ireland
Athlone Institute of Technology (AIT)
Cork Institute of Technology (CIT)
Dublin City University (DCU)
Griffith College
Institute of Technology Carlow
Institute of Technology Sligo
Letterkenny Institute of Technology (LYIT)
Limerick Institute of Technology (LIT)
Maynooth University
NUI Galway
Trinity College Dublin (TCD)
University College Cork (UCC)
University College Dublin (UCD)
University of Limerick
Applying:
Applicants must apply online through the online application portal.
Applicants first need an account on the official website.
Applicants are required to fill in all required blanks.
Supporting documents must be uploaded.
Reference letters should be uploaded.
You must have a valid offer letter from a qualified Irish higher education institution.
You must not exceed the word limit for each question of the application form.
It is recommended to use a web browser through computers or laptops rather than the mobile device for its application.

Results will be announced by July 1, 2022.
1- Read the Guideline carefully:
2- Registration and create account: https://webportalapp.com/sp/login/heagrantapplication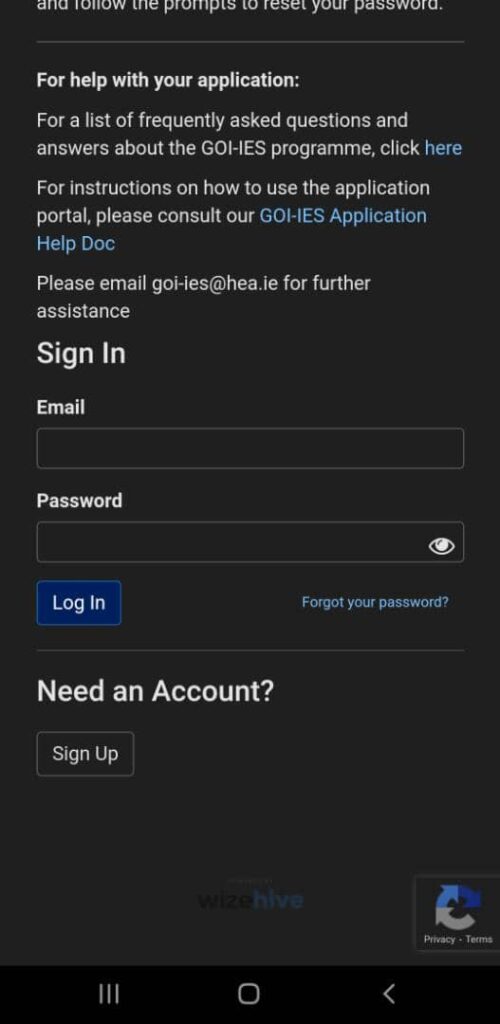 3- Create profile to got start: https://webportalapp.com/sp/home/heagrantapplication
4- fill your data and press on create profile
5: https://webportalapp.com/sp/profile_input/heagrantapplication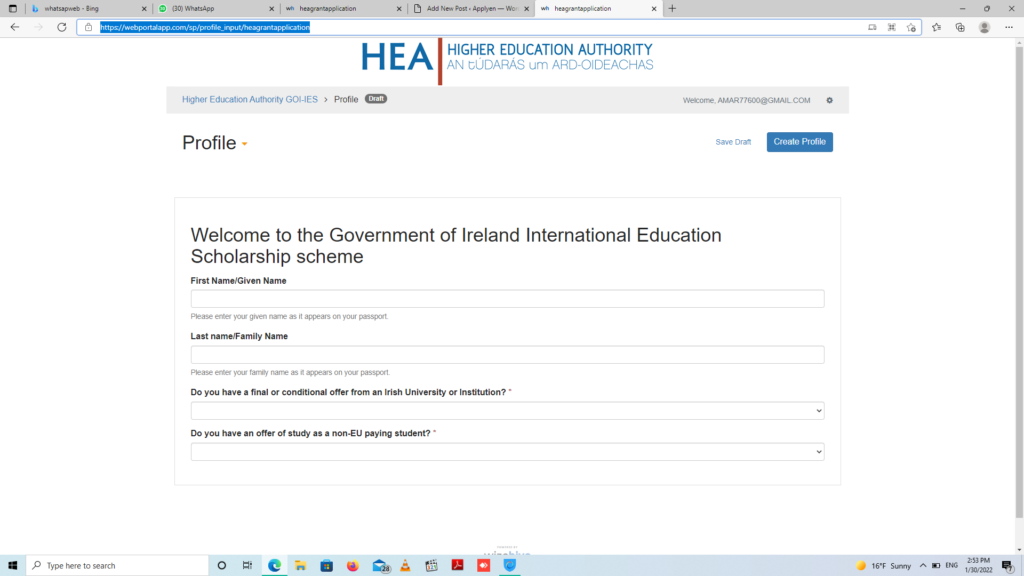 6- get start: https://webportalapp.com/sp/home/heagrantapplication
7- fill the information's: https://webportalapp.com/sp/workflow/heagrantapplication?path=35025828