Monash University- Australia, 800 Fully Funded Scholarships, 2022
Introduction:
800 fully funded scholarship at Monash University, Australia. Australian Government Scholarships 2022 are open for International Student. Monash University is accepting the applications for Australian Government scholarships 2022. There are more than 800 Scholarships in Australia at Monash University. If you were looking for Scholarships to support your study in Australia, then here is the list of Fully funded Scholarships in Australia by the Australian Government Scholarships and Monash University Scholarships. List of Scholarships in Australia at Monash University is Research Training Program (RTP), Monash Graduate scholarship, Monash International Tuition Scholarship, and many more. Fully Funded Scholarships. Scholarships for international students.
Scholarships in Australia are funded by the Government of Australia with the name of Australian Government Scholarships for domestic and international students to pursue their Master's degrees and Ph.D. degrees by research at Monash University. Students from all around the world are welcome to apply for admission and Fully Funded scholarships in Australia. Fully Funded Scholarships in Australia.
About the Scholarships:
Country: Australia
University: University of Monash
Eligible Countries: Nationals of all the countries and Australians can also
Degrees: Masters & PhD
No. of Scholarships: 800
Deadline: 31 March 2022
Benefits of Scholarship:
The University of Monash Scholarships 2022 offer the following benefits. The scholarships are fully funded, meaning that they cover all the student's expenses.
Approximately 800 scholarships are awarded
Tuition Fee
Airfare Tickets
Allowance for Living
Monthly Stipend
Overseas Student Health Case (OSHC)
Available Programs:
Art, Design, and Architecture
Arts
Business and Economics
Education
Engineering
Information Technology
Law
Medicine, Nursing and health sciences
Pharmacy and Pharmaceutical Sciences
Science
Monash University Accident Research Centre
Sustainable Development
Eligibility Criteria:
Domestic and International Students can apply for scholarships in Monash University
Master Applications: Must hold a bachelor's degree or transcripts with First Class Honors (65% or above) or equivalent to the minimum requirement by the Monash University
Ph.D. Applications: Must hold a Master`s degree or transcripts with First Class Honors or equivalent to the minimum requirement by the Monash University
Students will be given preference if they have interest in interest or did research before (Thesis, projects, publications…etc)
Language Requirement: Applicants from Non-Native English Speaking Countries must able to submit one of the following English Language requirement by Monash University
IELTS (6.5 overall), TOEFL paper-based ( 550+ TWE 4.5) TOFEL Internet-based ) 79+ Reading 13, Listening 12, Speaking 18 and Writing 21), Pearson Test of Academic English ( 58+ communicative score 50) and Cambridge English ( 176 + no skill below 169).
Documents Required:
You will be asked to upload the copies of documents which include at least;
CV (Academic curriculum vitae)
Educational Documents (results, transcripts, degrees..etc)
Proof of Citizenship (Passport)
Initiation Letter
Proof of English Language
Research Proposal
Other documents (if any)
Deadline:
The application deadline for Monash University Scholarships 2022 in Australia is 31 March 2022. Late applications will not be accepted.
Best Way to Apply this Scholarships :
1- Press on Register on the right site of the page https://apps.connect.monash.edu.au/apex/f?p=POSTGRADRESEARCHAPP:PUBLIC_PAGE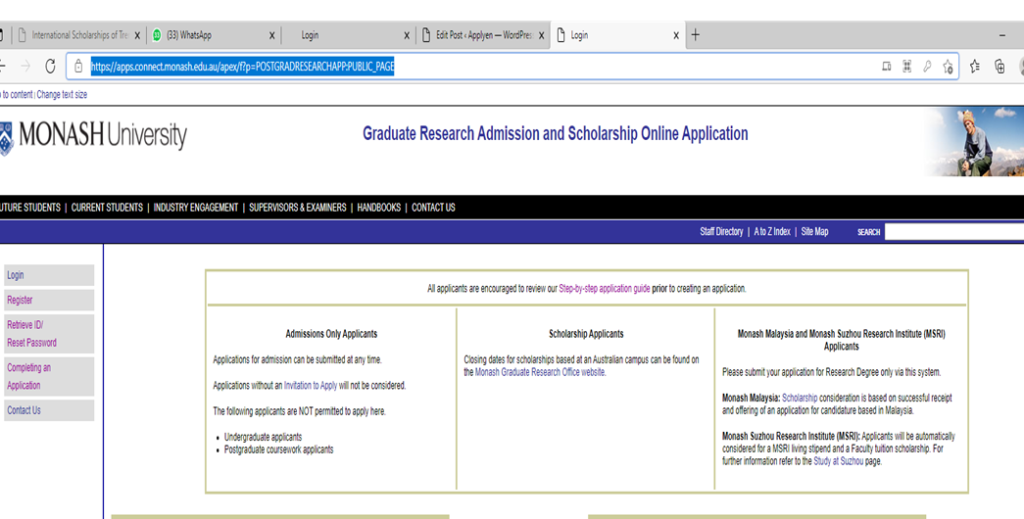 2- Click on (Yes), then fill of the fields, AND submit registration https://apps.connect.monash.edu.au/apex/f?p=POSTGRADRESEARCHAPP:REGISTRATION::P0HLRQREGISTRATION:NO:::&cs=3BMyv4baxFO6yyZC5mxF3m70q5ANwX4sjrE4N1jadD5tFBtfw7_auW-S0WRPtRmWJHnx-8exet7OF9VTGTQCU4w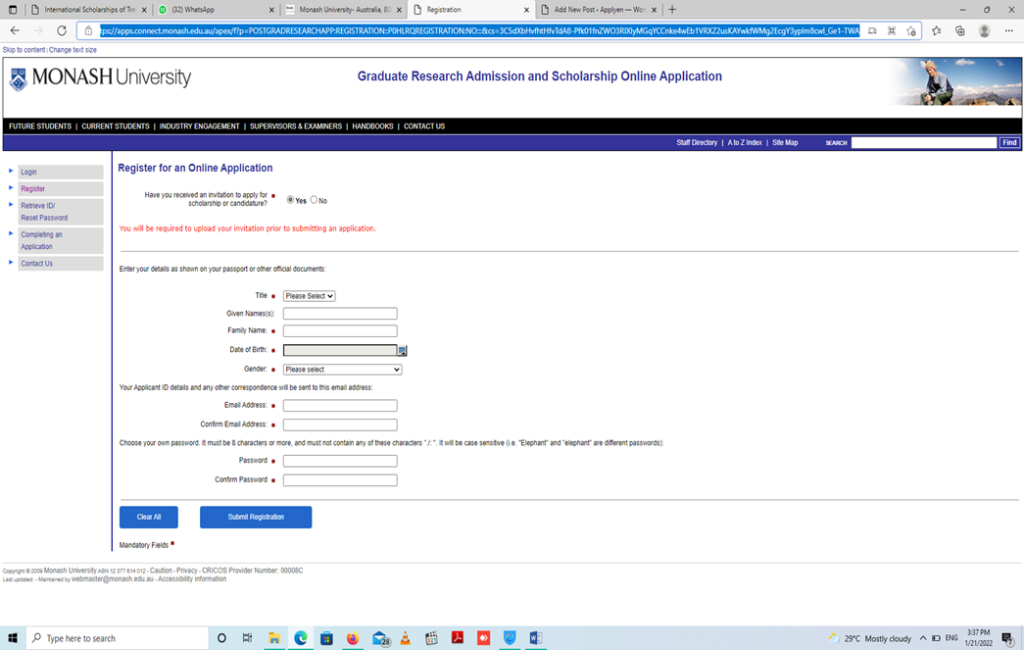 3- Get confirmation email and log in from your E-mail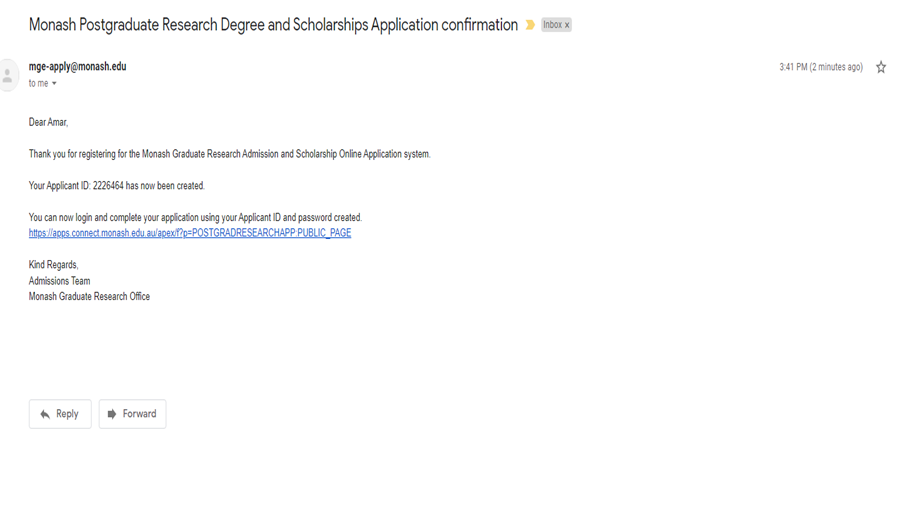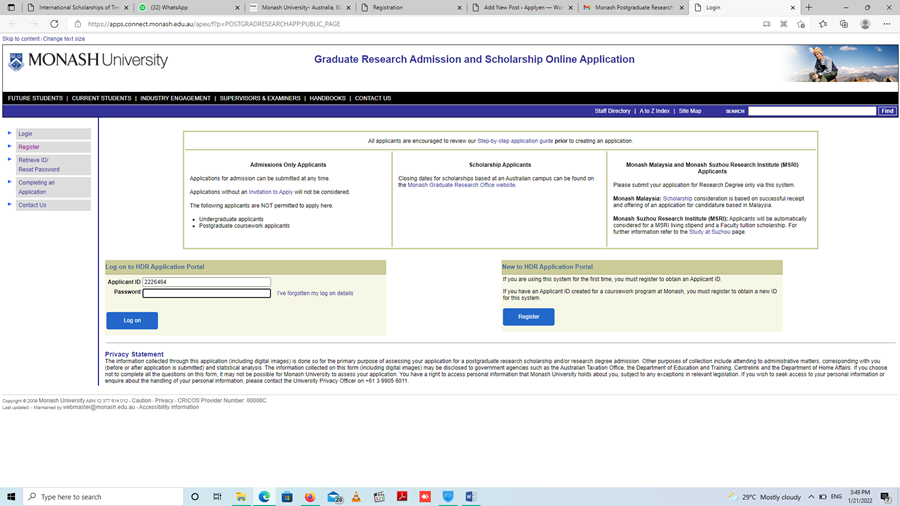 5- Get application overview AND click on complete my profile : https://apps.connect.monash.edu.au/apex/f?p=1304:1:100251964799437:::::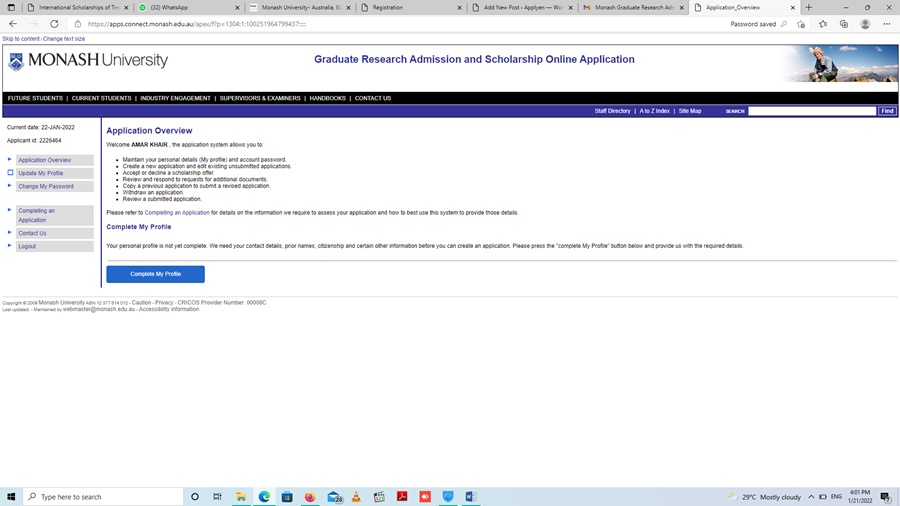 6- complete your profile: https://apps.connect.monash.edu.au/apex/f?p=POSTGRADRESEARCHAPP:MYPROFILE:100251964799437:P1BTRQGETDETAILS:NO::P6_APPLICANT_ID:2226464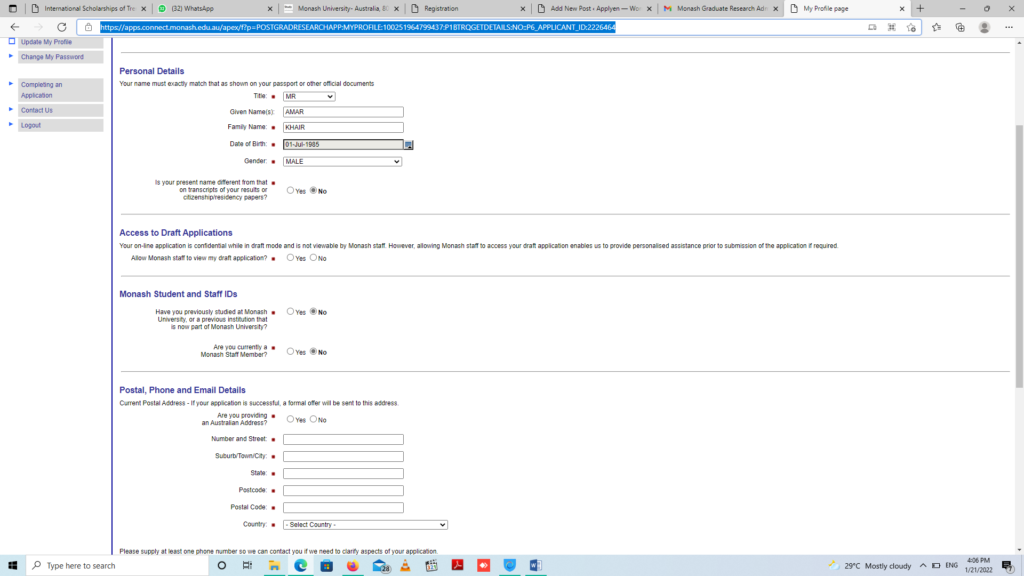 7- upload evidence of your citizenship/residency status and press on save : https://apps.connect.monash.edu.au/apex/f?p=POSTGRADRESEARCHAPP:UPLOAD:100251964799437:P6BTRQCITIZENSHPUL:NO:::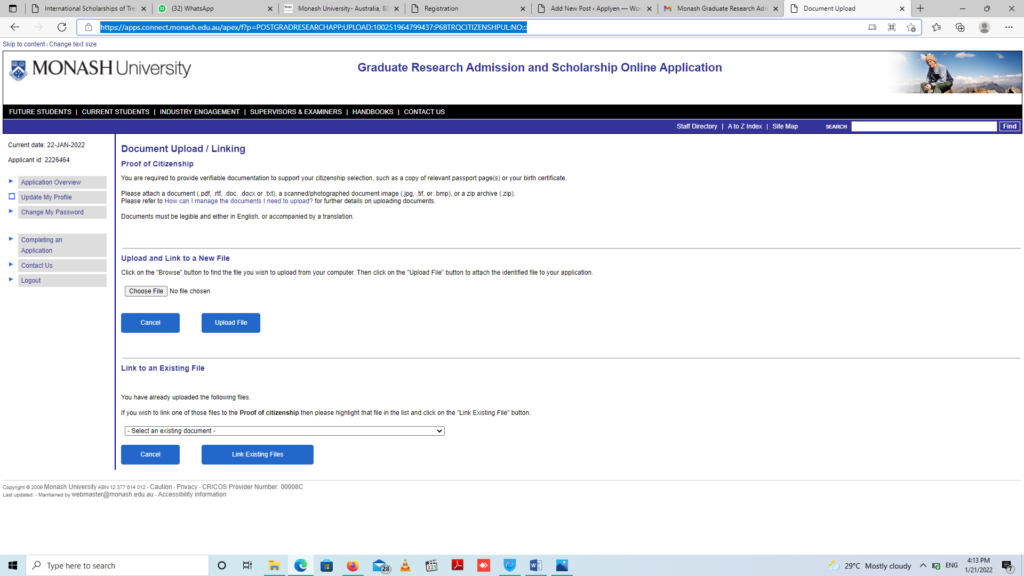 8- go to application overview page https://apps.connect.monash.edu.au/apex/f?p=POSTGRADRESEARCHAPP:MYPROFILE:100251964799437:P6BTRQSAVE:NO:::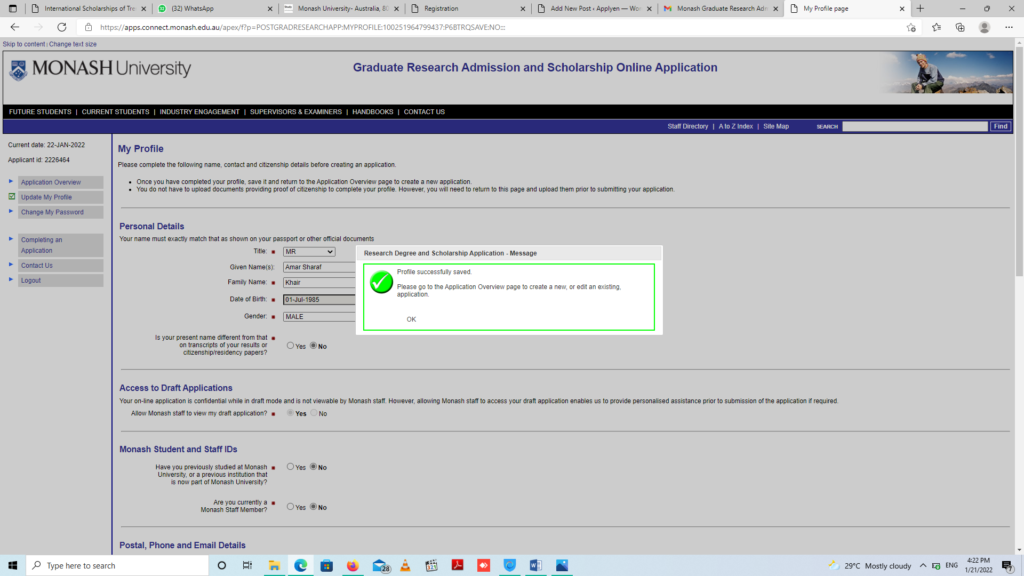 9- application submission guide- through the link you can choose your program Upload your qualification https://www.monash.edu/graduate-research/future-students/apply/application/guide#/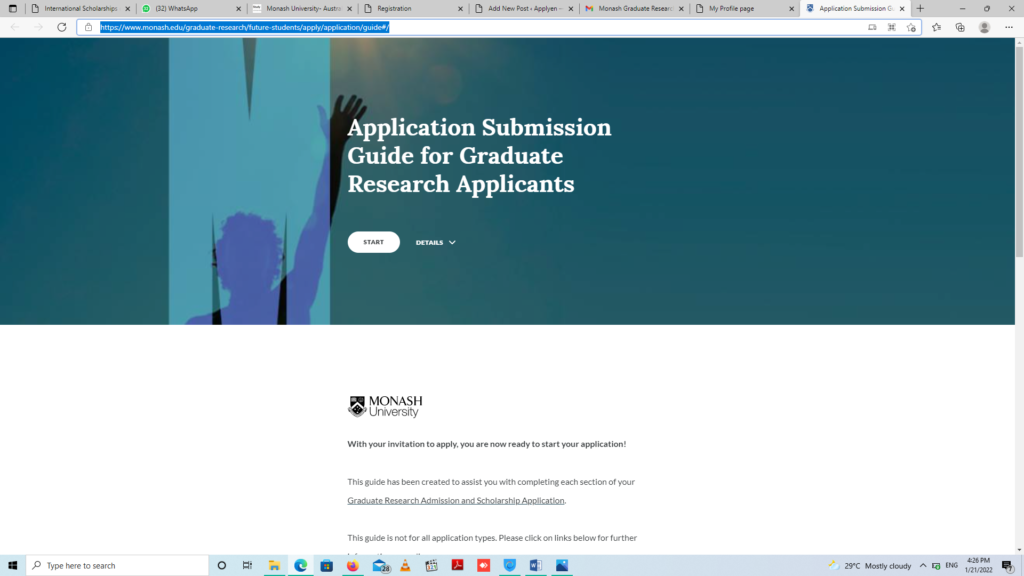 Good Luck