How to apply / Fully Funded Scholarships of Alberta University- Canada, 2022
Overview:
 University of Alberta Scholarships in Canada is giving an amazing opportunity to study Master's Degree & Ph.D. Degree in Canada. This is full  Scholarships For international students across the world. Alberta University is a Premier University and public Research-Based University. 200 undergraduate programs, More than 500 graduate programs, 250 specializations, and 300 research areas are at Alberta University.
Your career starts now with a Canadian Scholarships . Now, You don't need IELTS/TOEFL, You can meet English Language Criteria without it. Alberta university will teach you how to take your career at the next level because it is among Top 150 Universities in the world. Each graduate program has its own policies for student scholarships, entrance, and course requirements. The University of Alberta has many other Fully funded Scholarships Opportunities covering your necessary expenses.
Details
Country: Canada
University Name: Alberta University
Degree Level: Bachelors, Masters, Ph.D., Diploma, or Certificate programs
Financial Coverage: full funded
Deadline: March 1st, 2022
FINANCIAL SUPPORT
Entrance scholarships (Automatically Consideration) For Undergraduate, Graduates
International Student Scholarships: Value: Up to $9,000; payable over four years
University of Alberta Gold Standard Scholarship: Value: Up to $6,000
University of Alberta Doctoral Recruitment Scholarship: $5,000/Year
University of Alberta Master's Entrance Scholarship: Stipend: $17,500 (International students will receive an additional $10,000 to help cover fees.)
Alberta Graduate excellence  Scholarship (AGES): Minimum award of $11,000 and maximum of 15,000
List of Bachelor & Master Courses
Agricultural Life and Environmental Sciences
Alberta School of Business
Fine Arts and Humanities
Science
Social Sciences
Education
Engineering
Law
Medicine & Dentistry
Native Studies
Nursing
Pharmacy and Pharmaceutical Sciences
Public Health
Rehabilitation Medicine
Science
Check All Undergraduate Programs (Here)
Check All Graduate Programs (Here)
List of Scholarship Opportunities
Awards, scholarships and prizes, which are awarded to outstanding applicants, are funded by a variety of sources including the Government of Canada, Government of Alberta, and the generosity of the university's many donors. Some awards are exclusive to specific programs.
Department Specific Awards
Open Competition
University of Alberta Doctoral Recruitment Scholarship
University of Alberta Master's Entrance Scholarship
FGSR Graduate Student Online Conference Award
FGSR Graduate Travel Awards
Killam Trust Scholarships
Andrew Stewart Memorial Graduate Prize
Tri-Council Canada Graduate Scholarships
Pierre Elliott Trudeau Foundation Doctoral Scholarships
Top-Up Awards
Alberta Innovates Graduate Scholarships
Alberta Graduate Excellence Scholarship (AGES)
Dr. Gary McPherson Leadership Scholarship
Mackenzie King Scholarships
Thesis Completion Awards
Eligibility Criteria and Requirements
Canadian Citizens, International students are eligible to apply.
If you belong to these Countries or If you have studied in these Universities then you don't need English Language Certificate.
No Late Applications will be accepted.
How to apply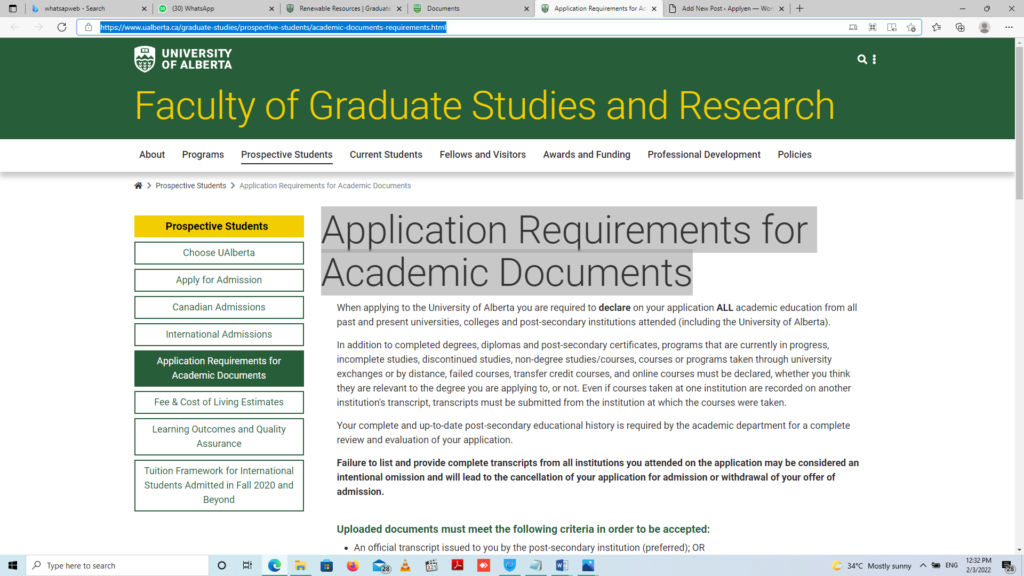 PROGRAM SEARCHhttps://www.ualberta.ca/graduate-programs/index.html#q=scholarship&sort=relevancy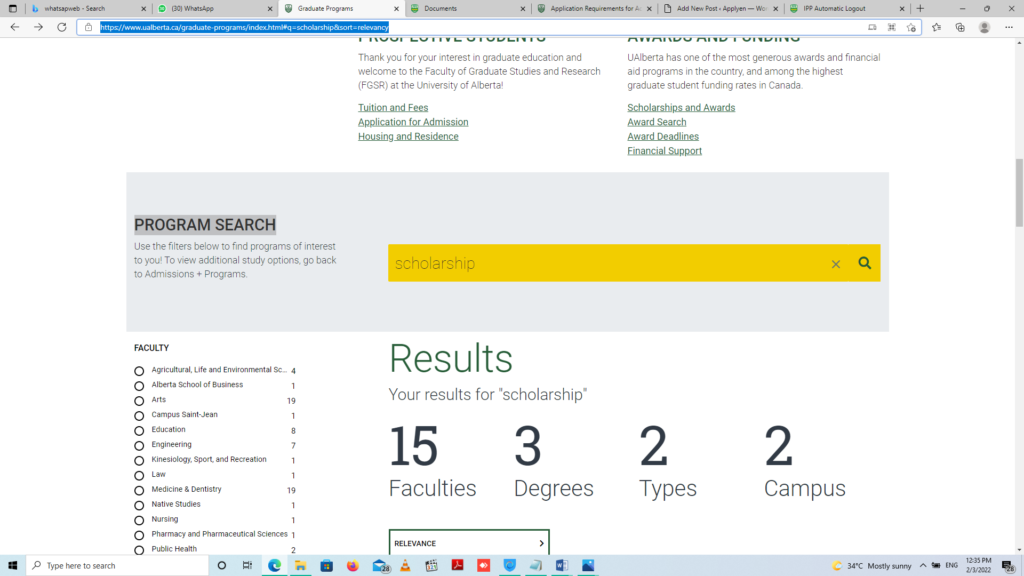 1- Create Account:https://graduate-studies-apply.ualberta.ca/urd/sits.urd/run/siw_ipp_lgn.login?process=siw_ipp_app_crss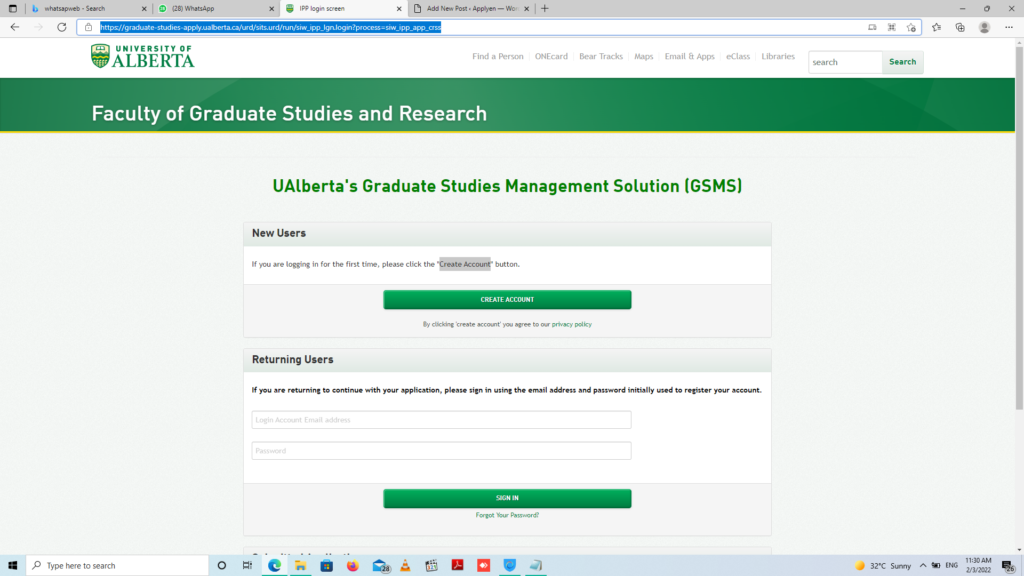 2- Create Login Account: https://graduate-studies-apply.ualberta.ca/urd/sits.urd/run/SIW_IPP_LGN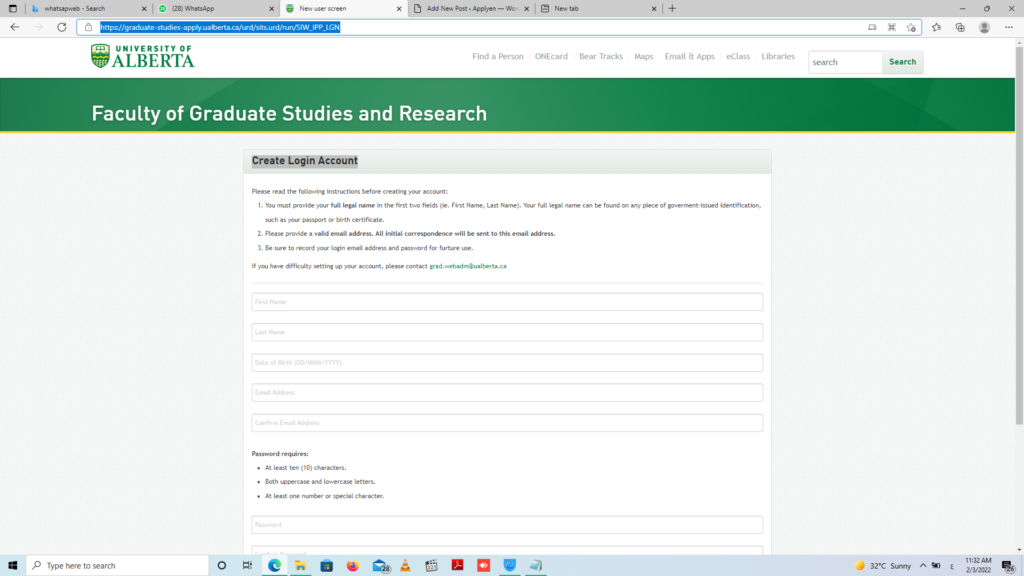 3- Get confirmation into your E-mail: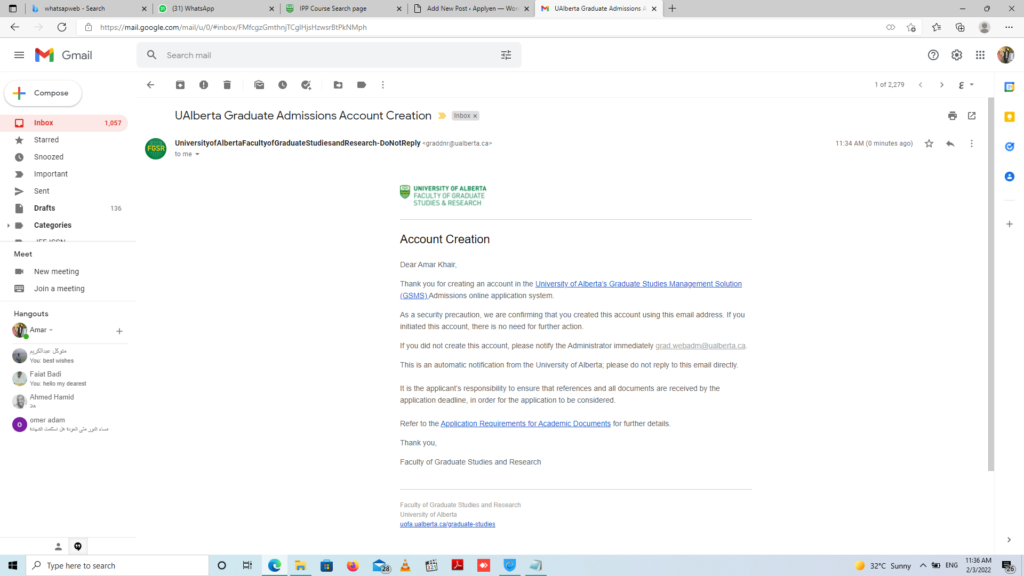 4- Program Search: https://graduate-studies-apply.ualberta.ca/urd/sits.urd/run/SIW_IPP_CRSS.start_url?31282E47FE4140E1CLY92mvNxl2FuqbP12iJMVIY2AhGmtpGPiG72cIpasc6VeOYvoJmPE0iI4lquV2xR8-kUdefZSR7Ovs6xYgCWz_iF8mx3mhzqmeSJyrO4VNUEoP8MAdUaBA0ZEbWmnD1hN8y6S6lJUe_Xw-Dy1H-TwtzEEVhJgxVH8l8O0ub1d1TYbVIPgpV0TLfU7D4_dE0xEXZoCEDQyu0S6nSMJhiPGYh7VlBI-rcobBDEkzBDL_gbeUDRuK-_GiNJ_3Dk26OP4Q8KK9Au2vRq6-F9NFCApQCrStt8gubE3NWrO82pcc
5- Personal Information: https://graduate-studies-apply.ualberta.ca/urd/sits.urd/run/SIW_YMHD.start_url?F3CCBAC51C704959lYeNFqW0bMYa5mwVwVAgra4Tf-UacjgAYwLO_EeA9sUcE18W_ocp37ptZsIyaNZmsJF8Q7YnsN3Ri-RZpslUrHgM8JuyS4Rmyy5GvaukJCU_Sa6Muu4_y2aMZ-VYh8sfd0OAFqwygnJ2ilqM2kSnCrPU2sUd4qfpFWKvcEz_9UYyQsiApo1vGnt5vAgRn8QHBWr7-kUbwonhJ7RKfN_hORVcCWqby0LiWOWI_J13ttQPkR4A-Poz8xfmkLZ3Gera7iu7qXCVE5xGKj6tozF_7WSHVXSeodDCLWG5ma5bOAR98VxBHl1d44xVdZZ1fKtzLq49UJM-7f1u-2A-rYzafmK7lZHkEg752_0yMlz4eOy7PTz4jlT7UGCwdI94EZ-j0MchfJKToeUFDjf-b9rfsFwOCCMz2l9p23ZHGNyAbWPwXbrJE10mES0AO_plk0OLyucFWU_GC6eFumv5FDWIqgnbM0p14Qq3Tg_WAYYrBJx3uMDocOTHqC2dKWlrybABuVwcEsNM_tm9H3IvLQ5JFCs9BRh0Md_FYIUVrGNJMBAtzeZMcB2qWT6XcdZpMKmx80rDS_Ee_WB516j6OuAFmNchPMbPRcIIY0FOtewfZt9RkSLw5jyXa3CqSdztAx9io4aLyCoV9xMFM-TPbMkk92AvWIJ-9ZulZ8OzBa3NxlJi-cufIF5ioIXKPzffsebYPr8alrhJDDcD6kocgv4pes4456h9of2gTsAho6yZRAo_E0bCjWosRfN5u61pfb2Z3B5vrpISBvhK5m3gNMIN4dpMNTahzOtU9KR4lKmy46gi6XCOLtRUHikoHYewnFT-sTi1Z0ISvRA-VFyqE4OW0WuFU9rVgrmumWzZm6HedNq20_poUH5M39IFOBzb_jZAr-rwaJ0DaZESRPN_imwk_d8aJMNiKAnyaoiRjcSloj0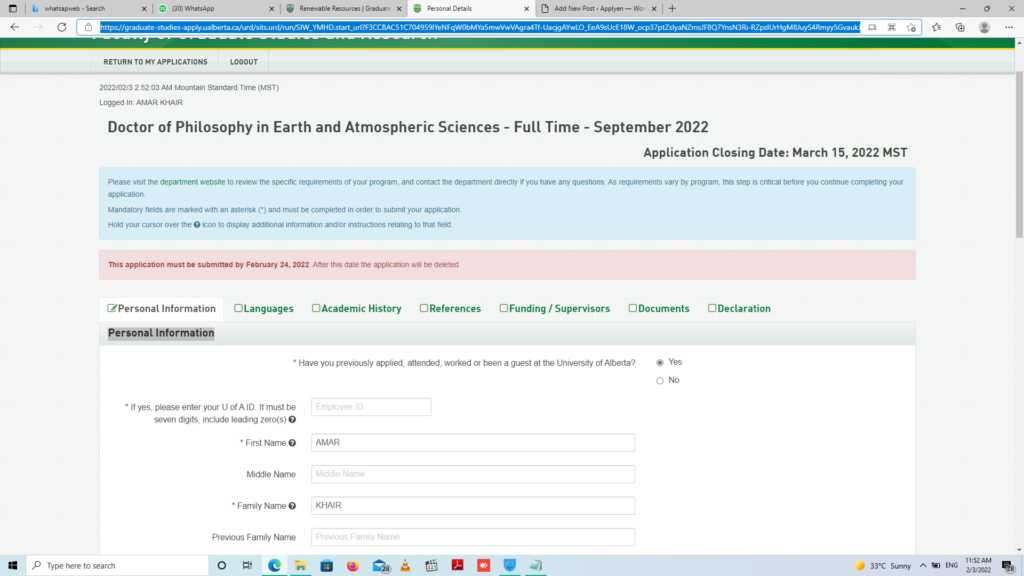 6- Language Proficiency: https://graduate-studies-apply.ualberta.ca/urd/sits.urd/run/SIW_TTQ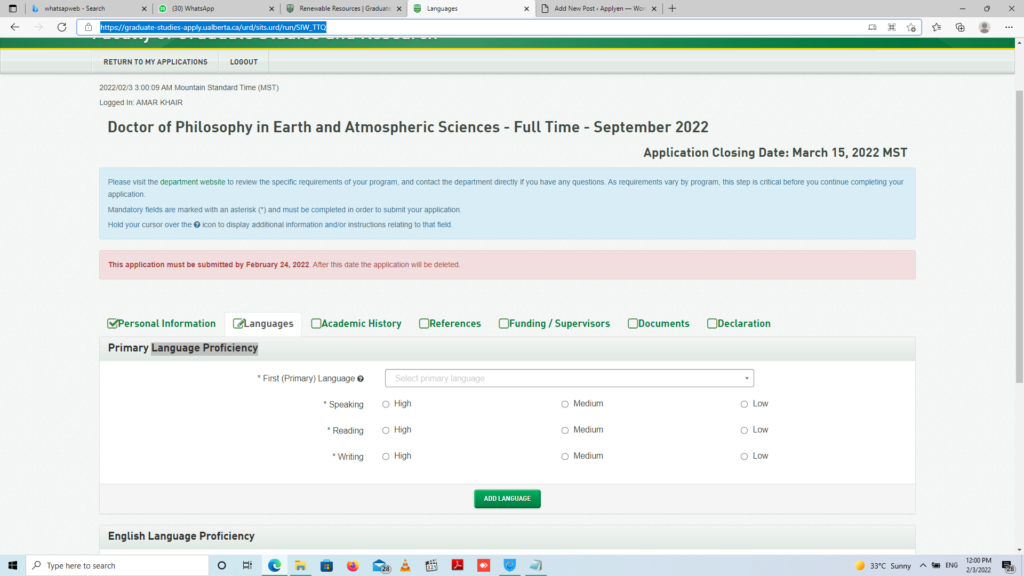 7- Education: https://graduate-studies-apply.ualberta.ca/urd/sits.urd/run/SIW_TTQ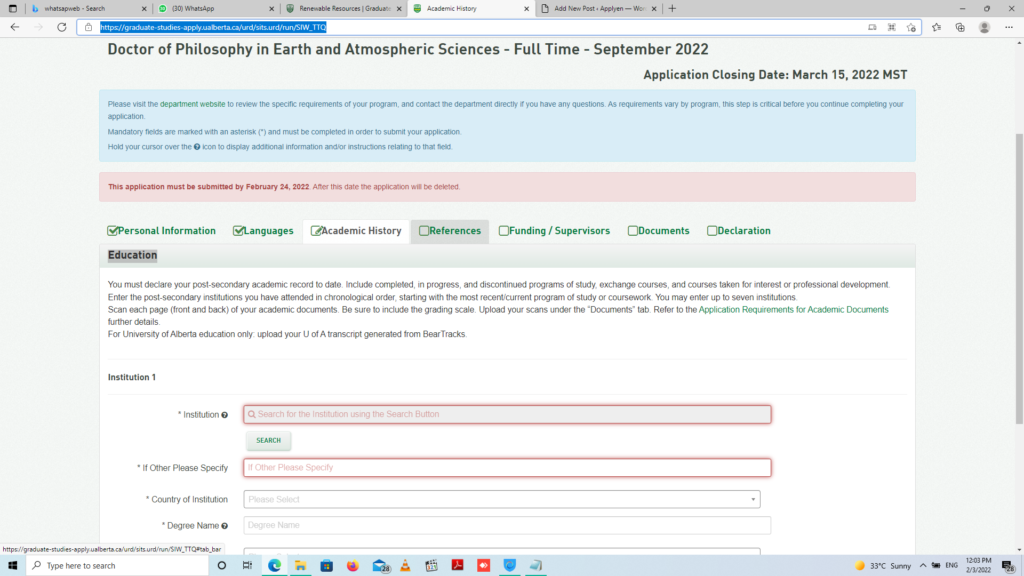 7- References: https://graduate-studies-apply.ualberta.ca/urd/sits.urd/run/SIW_TTQ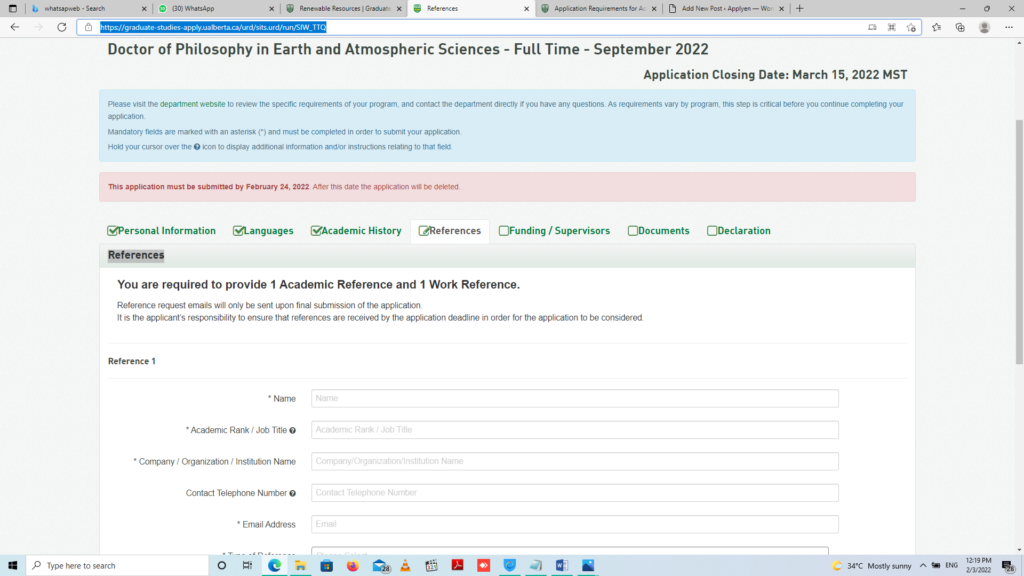 8- Compete other progress as finding superviouer, upload documents and declarations https://graduate-studies-apply.ualberta.ca/urd/sits.urd/run/SIW_TTQ